Euphaedra zaddachi crawshayi
Butterflies of Mutinondo Wilderness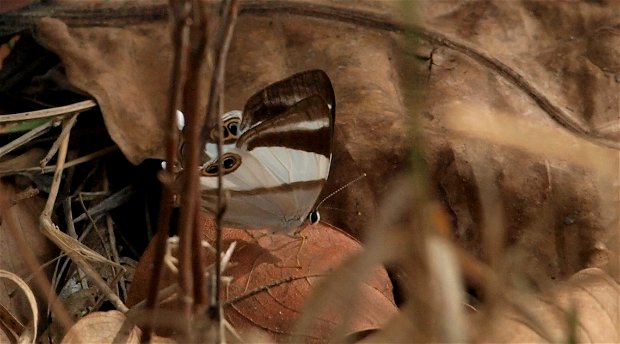 Mutinondo's natural wildlife includes many beautiful butterflies - with at least 205 species present, we have nearly triple the number recorded from the entirety of the U.K. - including one species of Charaxes (Emperor) that has never been recorded anywhere else. Whether or not you are a passionate Lepidopterist, turning an eye to these colourful inhabitants of the wilderness area is sure to enhance any outing.

Mutinondo Wilderness has been extremely fortunate in that accomplished lepidopterists Colin Congdon and Ivan Bampton spent many days dedicated to searching the area for eggs and caterpillars of their endemic Charaxes butterfly. While doing so, they also found other interesting species, and were kind enough to provide the list below:
 
A PROVISIONAL CHECKLIST OF THE BUTTERFLIES OF MUTINONDO WILDERNESS  
COLIN CONGDON, IVAN BAMPTON, Martin Hassani & Peter Walwanda, April 2005. 
 (Some additions by William van Niekerk, following correspondence with Dr. Congdon, 2019)
Family Hesperiidae  
Coeliades forestan  
Coeliades pisistratus
Celaenorrhinus galenus
*Abantis bamptoni  
Abantis paradisea  
Abantis zambesiaca  
Calleagris jamesoni
Spialia diomus
Eretis djaelaelae
Sarangesa astrigera
Metisella formosus 
Metisella kambove 
Acada biseriata
Andronymus neander
Astictopterus punctulata
Chondrolepis niveicornis
Fresna nyassae
Platylesches picanini
Platylesches moritili
Teniorhinus harona
Tsitana wallacei 

Gogyra johnstoni
Meza larea
Zenonia zeno
Pelopidas thrax
*Kedestes lema 
Kedestes mohozutza
Kedestes trisignata
Kedestes wallengrenii
Afrogegenes hottentotta
Afrogegenes letterstedti
Borbo borbonica
Family Papilionidae  
Papilio dardanus  
Papilio demodocus  
Papilio ophidicephalus  
Papilio nireus  
Graphium angolanus  
Graphium leonidas  
Graphium policenes 
Graphium taboranus
Family Pieridae  
*Colias electo spp.
Catopsilia florella  
Eurema brigitta  
Eurema desjardansi  
Eurema hapale  
Eurema hecabe  
Eurema regularis  
Eurema senegalensis  
Belenois aurota  
Belenois creona  
Colotis vesta
*Mylothris sagala albissima  
Mylothris agathina  
Leptosia alcesta 
Family Nymphalidae

Subfamily Heliconiinae
Acraea anemosa
Acraea asema
Acraea chaeribula
Acraea encedon  
Acraea eponina  
Acraea natalica  
Acraea neobule  
Acraea omrora  
Acraea oncaea
Acraea periphanes
*Acraea rhodesiana
Acraea anacraeon  
Acraea sotikensis  
Acraea ventura 
Pardopsis punctatissima
Phalanta phalantha 
Subfamily Danainae
Danaus chrysippus
Amauris crawshayi
Amauris dannfelti restricta
Subfamily Satyrinae
Melanitis leda  
Bicyclus cooksoni  
Bicyclus cottrelli  
Bicyclus ena  
Bicyclus safitza  
Henotesia simonsi  
Neocoenyra kivuensis 
Subfamily Nymphalinae
Hypolimnas anthedon
Hypolimnas misippus  
Precis actia  
Precis archesia
Precis ceryne
Precis cuama
Junonia antilope  
Junonia hierta  
Junonia natalica  
Junonia octavia  
Junonia oenone  
Junonia orithyia  
Junonia terea
Catacroptera cloanthe  
Vanessa cardui  
Byblia anvatara  
Eurytela dryope  
Sevenia (= Sallya) rosa  
Sevenia garega
Neptis alta  
Neptis jordani
Neptis kiriakoffi  
Neptis laeta  
Neptis saclava  
Neptis serena  
Pseudacraea boisduvali  
Pseudacraea poggei
Euriphene iris  
Crenidomimas concordia  
Hamanumida daedalus  
Pseudargynnis hegemone  
Euphaedra zaddachi subsp. crawshayi
Charaxes achaemenes  
Charaxes bohemani  
Charaxes brutus  
Charaxes candiope  
Charaxes castor  
Charaxes druceanus  
*Charaxes mutinondo 
Charaxes guderiana  
Charaxes howarthi
Charaxes jasius  
Charaxes nichetes  
Charaxes pollux  
Charaxes protoclea  
Charaxes varanes 
Subfamily Libytheinae  
Family Lycaenidae  
Alaena nyassa  
Alaena reticulata  
Alaena unimaculosa
Pentila pauli  
Cooksonia neavei  
Mimacraea marshalli  
Baliochila hildegarda  
Cigaritis (= Spindasis) homeyeri  
Cigaritis mozambica  
Cigaritis natalensis
Cigaritis phanes
Cigaritis trimeni
Chloroselas pseudozeritis  
*Zeritis sorhagenii  
Axiocerses amanga  
Axiocerses tjoane  
Epamera australis  
Epamera bakeri  
Epamera nasisii  
Epamera sidus  
Epamera violacea  
Aphniolaus pallene  
Iolaphilus trimeni  
Argiolaus ndolae  
Argiolaus pamae  
Argiolaus silarus  
Stugeta bowkeri  
Hypolycaena buxtoni  
Hypolycaena philippus  
Hypolycaena liara
Hemiolaus caeculus  
Virachola antalus  
Virachola diocles  
Virachola caliginosa
*Pilodeudorix bemba  
Pilodeudorix zela
Pilodeudorix kafuensis
Capys connexivus  
Anthene contrastata
Anthene definita  
Anthene lunulata  
Anthena mpanda
Anthene nigropunctata
Anthene princeps  
Triclema lydia
Cupidesthes irumu
Cupidopsis cissus  
Cupidopsis jobates
Pseudonacaduba sichela  
Lampides boeticus  
Uranothauma poggei  
Cacyreus lingeus  
Cacyreus virilis
Leptotes pirithous  
Tuxentius calice  
Zizeeria knysna  
Actizera lucida  
Azanus jesous  
Azanus mirza
Azanus moriqua
Azanus natalensis 
Eicochrysops eicotrochilus
Eicochrysops hippocrates
*Eicochrysops pinheyi
Euchrysops malathana
Lepidochrysops anerius
Lepidochrysops cf ansorgei
Lepidochrysops chloauges
Lepidochrysops dollmani
Lepidochrysops intermedia
Lepidochrysops peculiaris
Lepidochrysops skotios
Lepidochrysops solwezii
Lepidochrysops sp. nr cinerea
Family Riodinidae  
*Abantis bamptoni. Widespread but little known. It is easier to find the caterpillars (on Uapaca) than the adults.  
*Kedestes lema. Another little known skipper. Subspecies linka was previously known only from the Makutu Mountains, while subspecies lema is known from Lusaka and the type locality in southern DRC. Habitat woodland. Flies in February.  
* The Mutinondo subspecies of Coleus electo is unusually large, and the females are of an unusual shade of yellow.
*Mylothris sagala albissima. Known from Mpika (type locality), Bwingi Mfumu, Shiwa Ng'andu and Mbala. Present in the mshitu, February.  
*Acraea rhodesiana. Described as widespread in Zambia but uncommon. Flies round the edges of exposed rocks where its foodplant, Basananthe reticulata grows. This foodplant shared with Acraea omrora. Both species fly during the rains.  
*Amauris crawshayi is uncommon, and Mutinondo specimens have the two forewing subapical hyaline spots larger than usual and of unusual shape.
*Charaxes mutinondo. Known from Mutinondo Wilderness and Kundalila Falls only. Was thought to be a race of Ch. gallagheri, but now that males have been taken it is seen to be nearer to Ch. martini from Mlanje in southern Malawi. Larval foodplant Diospyros natalensis.  
*Zeritis sorhagenii. Very local. Open woodland. One specimen from across the Mushumfusi in November.  
*Pilodeudorix bemba. The only confirmed record from Zambia. D'Abrera, working from the British Musem, had not seen any specimens. He commented that it was reputed to come from Brachystegia woodland in Shaba Province of Zaire, Zambia, and southern Tanzania. Berger (Les Papillions du Zaire) thought the type might be the then unknown female of Hypokopelates kafuensis, a view shared by Kielland (Butterflies of Tanzania). The authors of Butterflies of Zambia also doubted the existence of the species. There are, however, two males in addition to the type female, known to ABRI, Nairobi. They resemble P. kholi, but with a black forewing apex. We now have two more males, from the mshitu, in February. 
 
*Eicochrysops pinheyi. North western Zambia (Mwinilunga), and a male from Kundalila Falls. Now a couple more males from Little Chipundu, along the outlet stream. Heath considers this species may be a form of eicotrochilus, but we think not. Pinheyi is very much an insect of seepage areas (dambos), whereas eicotrochilus is more at home on dry land (cf Kielland 1990). Also pinheyi is constant in appearance, unlike form E. messapus ssp. mahallakoena, quoted by Heath. If pinheyi were a form of eicotrochilus it seems strange that it has not been found in the Copperbelt.
 
*Lepidochrysops spp. One or possibly two undescribed species. Skotios is also rarely seen. The whole area is rich in Lepidochrysops, and more species are likely to be found. Eggs laid on Ocimum - more familiar as Becium (Lamiaceae), and local species of Lantana (Verbenaceae). Young larvae taken by ants into their nests where they feed on ant brood.
*Abisara rogersi. Known from forests across the north of Zambia, and two males from along the Mushumfusi in early May. Foodplant almost certainly Maesa lanceolata. 
See Also
Smaller Wildlife of Mutinondo including Grasshoppers and Dragonflies