Endless different walks and views

Beautiful streams, rapids and falls

5 day hike to the Mutinondo Waterfalls

The fine weather restaurant

Lodge view of 4 of the 10 peak challenge

Spectacular sunsets and sunrises

Mutinondo Wilderness lodge nestled into a rocky hill

Sunrise from Nsaka Campsite

Wild camping on overnight walks

5 day hike to the Luangwa escarpment

Quality local craftsmanship

1700 species of plants recorded

Kankonde self-catering bushcamp

Cycle, run, swim and saunter to your hearts content

Saunter to your hearts content

Cycle, run, swim and saunter to your hearts content
An owner managed, hidden gem on the plateau 30 km west of the Luangwa Valley in northern Zambia.
Mutinondo Wilderness is paradise for the free spirits who want to hike, swim, cycle and generally celebrate pristine miombo woodland, streams, waterfalls and inselbergs, over 60 km of well-maintained and signed tracks, and views from horizon to horizon without evidence of human activity.
Mutinondo is unique in that it is a proper wilderness where you can hike freely.
Chalets are well built thatched granite or handmade brick, buildings set on a rocky outcrop with spectacular views.
More about our chalets
We offer 8 different campsites at the main lodge and the Kankonde self catering campsite 11 km away from the main lodge. All have unique characters and access to streams, waterfalls, swimming spots and many kilometers to hike, cycle and run along - ENJOY!!!
More about Camping
Choose from swimming, hiking, mountain biking, mushrooming, birding and more (or less!).
Explore Activities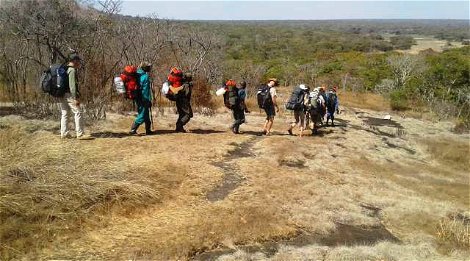 Hiking
Day hikes as well as longer hikes arranged to wildcamp and venture further afield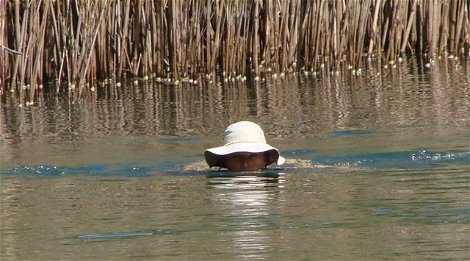 Wildswimming
The most beautiful rivers to swim in!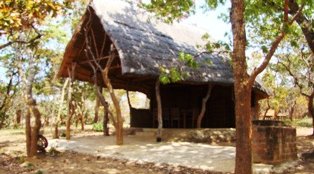 Kankonde Exclusive Self-catering bushcamp
This is the perfect place for pure peace and quiet! It is exclusively yours when you book it. Just you and the caretaker!
10 km north of Mayense main camp, set on the Mutinondo River with a beautiful swimming area, facing the Kankonde Rocks. There is grass chalet with 2 beds, a large sheltered living area with two tables and six chairs, shelves, and a braai stand with firewood. The caretaker will do your washing up, light fires and prepare hot water for your showers.
This is not a kitted out camp so you need to bring everything (except the kitchen sink!).
.Please book in advance of arrival.
There are 4 en suite chalets, built and furnished by local craftsmen out of local materials, all with stunning views and characters of their own. Meals are wholesome, prepared by local staff from local ingredients with plenty of fresh fruit and vegetables. The 8 campsites are widely spaced with plenty of functional facilities excluding power points. There is also an isolated self-catering camp 11 km from the main lodge.
All these options, and the 10,500 hectares of beautiful bush and views, are ideal for practical explorers, pursuers of beauty, peace and quiet, and nature lovers. To date, there are over 1700 species of plants identified, 1632 of these are published in a photo-rich guide based on the flora of Mutinondo, the bird list includes 362 species and invertebrates amount to 688 of which 283 are butterflies. For the adventurous and energetic, there is the 10 Peak Challenge, with a trail of 28 km, spanning the 10 tallest inselbergs, encompassing an elevation of nearly 1.9 km, and a marked 50 km cycle track which scoots down spectacular paths, skirting hills and crossing streams.
There is limited wifi and enough solar power in the office to charge cameras and gadgets.
Mutinondo is not the place for those who expect frilly-dilly or designer/boutique furnishings and trimmings, piles of cushions, fancy food, pampering and 24/7 wifi and power.
Mutinondo is also NOT suitable for camping rigs over 5 tons.
Furnishing and buildings: The furniture and buildings are all made by local craftsmen out of local materials, like wood, brick, stone and locally cut thatch. They are solid and should last for many years. We are eco-friendly and prefer to keep good quality old things rather than renew things frequently, wasting both good quality materials and craftsmanship for the sake of fashion.

Meals: We pride ourselves on supporting local farmers and suppliers, and avoid using imported, processed and overpackaged "fancy" food. This results in delicious wholesome meals with plenty of local fresh fruit and veg.  Our policy is that we do everything which we would like to find at other lodges of our choice (in that way we attract people with similar tastes, values and expectations).
What you can expect for full catering:
Early morning tea and coffee with freshly baked biscuits in your chalet, a full breakfast with fruit, cereal, eggs, bacon/sausage/, tomatoes, toast, butter, homemade marmalade, jam and local honey, tea and coffee; lunch consists of cold meat, cheese, salad, homemade bread rolls, macaroni/pies homemade pickles, tea or coffee; dinners are a homemade soup followed by roasts/curries/casseroles with at least 3 different vegetables and desert, tea or coffee.

The price includes free use of the kayak and canoe and over 60 km of well marked and maintained hiking and cycling tracks: Of the rates quoted to you by Mutinondo, between 62.5 to 72.5 % less $10 per person per day goes towards the accommodation, catering and running and upkeep of the lodge etc. The 27.5 and 37.5% plus $10 per person per night goes to:

VAT 16%,
Service Charge 10%,
Tourism Levy 1.5%,
Conservation Fee $10 per person per night,
Commission to agent 10% if you book through an agent.

Mutinondo is completely self-funded, so salaries, lodge and vehicle maintenance and replacements, lodge development, licenses, land rent, accounting fees, land rent etc etc and transport costs for gathering supplies, building materials and equipment etc from up to 600 km away is funded by our lovely guests like yourselves, which we highly appreciate.
Our rates are the same for both international and Zambian residents and citizens (everyone is treated equally), and our margins are minimal to suit all. Guests who want discounts should first consider the above. We offer discounts to groups of less privileged, workshops, students and scientists.
Payment and Cancellation Policy: Due to the uncertainty of making definite plans with the risk of covid we are not taking deposits for bookings and would like people to deposit the full amount of their proformas within 2 weeks of visiting Mutinondo (or paying at the lodge). We take dollars or Kwacha cash and local  deposits or cheques. For credit card payments a 5% commission is added to your bill and for international transfers a $35 charge is made to cover the local bank charges (not included in the other charges which the bank deducts).
Unless you can send genuine proof and reasons for cancelling, which we are always considerate about, please respect our cancellation policy. 
From 21 to 28 days, 25% of full amount;
from 14 to 21 days, 50% of full amount;
7 to 14 days, 75% of full amount;
less than 7 days, full amount.
Clients who book directly with Mutinondo will be credited with a 50% refund of their cancellation fee on a subsequent booking.
Covid: Please be responsible and take all the necessary preventive precautions at least 14 days prior, enroute to, and during your stay, and postpone your booking if you have suspect that you have covid symptoms or have been in contact with anyone who has tested positive within fourteen days of your visit.
Please feel free to explore this website and ask us for any further information. Looking forward to seeing you here soon and take care.

The Mutinondo Team
Celebrating 25 years at Mutinondo
Help us save paper - download a digital map of the wilderness area before you get here: 
Guest Reviews
An extremely beautiful place, quiet and peaceful. Exceptional and commendable staff and management. Excellent and well-prepared meals. Highly recommended.

Bernt Sinner

via Facebook

Mutinondo is a rare gem of true wilderness in Zambia. First-rate staff and management, artfully designed chalets, and stunning scenery. Highly recommended.

David JW

via Facebook

Beautiful location, very comfortable rooms, good food and extremely friendly atmosphere. We loved being able to walk unguided on excellently cleared paths. The granite whalebacks are wonderful to climb and give great views. The river is beautiful as well - one day we went out for a long walk, and had a picnic on the river banks on the way home.

Dr Y and Mr C

Essex, via ExpertAfrica

Unmissable Mutinondo marvelsThis is a really wonderful place. It is extraordinarily beautiful country and Mike and Lari are very, very nice people; the lodge and chalets are comfortable, the atmosphere relaxed, the staff excellent.

The Bushbucks

Oxfordshire, via ExpertAfrica